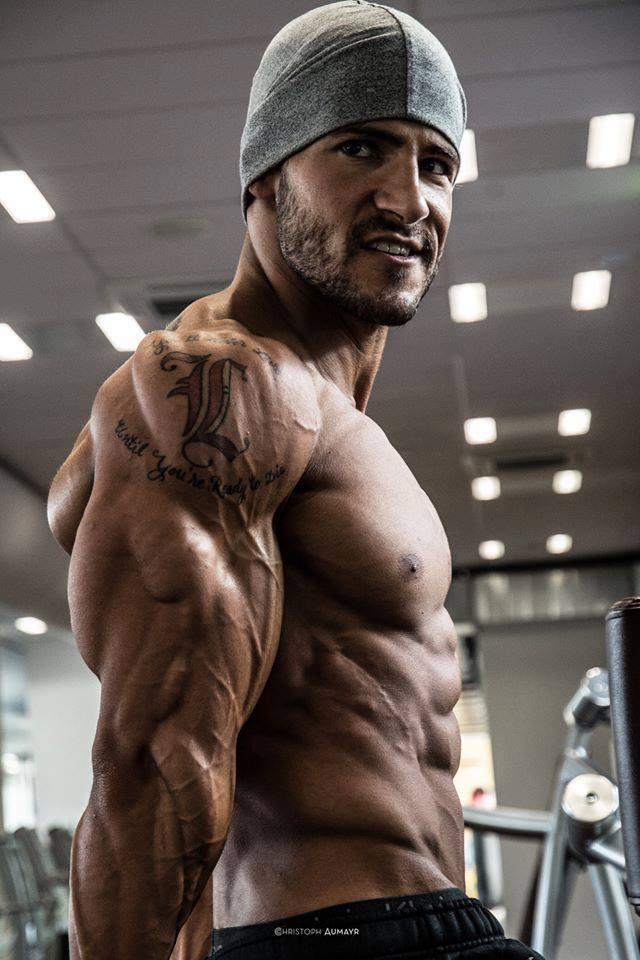 INTERVIEW - BRANDON LIRIO
Name:u00a0Brandon Lirio
Place of living:u00a0West Hartford, CT
Age:u00a028
Occupation:u00a0Professional Fitness Coach
Category you compete in:u00a0Bodybuilding
Accomplishments:u00a02015 AINBB Mr Physique, 2016 INBA European Overall Champion, 2016 INBA Natural Olympia Bodybuilding Open Overall Runner up
Motto:u00a0Everything you dream of is right on the other side of your fearu2026
Why did you choose natural bodybuilding?
When I was growing up I had a horrible anxiety disorder and no outlet for my anxious nature. I couldnu2019t leave the house without feeling sick and I would lock myself in my house for days. I knew I needed to push myself or I`d die, so I joined the military to force myself out of my home and comfort zone and force change. After I joined, I knew I had to step outside of my comfort zone or crumble under the weight of my disorder. When I found lifting, it balanced my hormones and gave me an outlet to change my feelings of anxiety and fear. Lifting didnu2019t just give me my next careeru2026 it saved my life.
How many years have you been competing and what was your first show like?
I have been competing since 2012 but I didnu2019t take it seriously or really put my mind to it 100% until 2013. Since then, I`ve never slowed down, usually doing 4-6 shows a year. My first show was something I`ll never forget. I saw the best this sport had to offer and made such amazing friends. That is the one major thing I still take away from every show. The incredible people you meet and connect with for life. From the competitors to the staff to the crowdu2026 these people will fuel your passion and support you for years to come. Donu2019t let them down!
What do you consider to be your biggest achievement in the sport and why?
My biggest achievement was opening my personal training and contest preparation business because it connected me to what really makes this sport great. The ability to help and inspire people. Helping hundreds of people see their true potential. Helping everyday people who doubted themselves see the extraordinary potentialu2026 having people with disabilities like multiple sclerosis to amputees to sickness like canceru2026 I have had the pleasure to have them all on my roster and push them to their best, winning their shows. My greatest achievement is helping others, and I hope to continue to achieve for years to come.
Is there anything you would like to achieve in the sport?
I one day would love to stand on the top of the podium at the PNBA Natural Olympia and become the worlds Mr. Natural Olympia. It would be the personification of all my hard work realized.
How many times a week do you work out and what is your favorite work-out?
I workout about 6 days a week and LOVE working chest the most, although my favorite individual exercise is Deadlifting. Even as a bodybuilder I have a fairly high Deadlift weight at 515 pounds with a bodyweight of 163 lbs.
What does your ordinary day look like?
Wake up and hit my cardio, come home and meal prep for the day, answer my client emails, update a few client plans, thenu2026 train people in person. By lunch I have several posing sessions via skype which takes me to my training in early afternoon. Shortly after that I will film some content for my clients on facebook or IG to help them with form or fitness knowledge, which brings me to dinner with my wife and relaxing with my family. I usually try to visit my mother a few times a week for dinner as well so we can remain close as her and my father have always supported my bodybuilding dream. Much of the time in between these sessions is spent planning and building my new training facility opening this year in CT, Battleground Fitness!
Is there anything you would like to recommend to young people who would like to start with lifting weights?
Never give up. You are going to constantly second guess yourself because you are comparing yourself to someone bigger or leaner. Only problem is thatu2019s their chapter 30 when you are on chapter 3. Look at your chapter one and then compare your current self to that. If you are even 1% betteru2026 you are winning and you should be proud. Never give up, because youu2019ve fallen down, with regards to diet OR lifting. We all fall down and every one of us hits a rut or difficult time. The will power and ability to work through that and get back to the bar is what youu2019ll tell others about when you are championu2026 and youu2019ll appreciate it that much more. Never give up, because failure is temporary, but regret is permanent.
FAVORITE:
Sportsman:u00a0Flex Lewis, 5 time Mr Olympia 212 champion. I`ve met him several times and he`s nothing but humble and continues to improve even when hes at the top of his game.
Sport besides bodybuilding:u00a0American Footballu2026 GO NEW YORK GIANTS!
Food:u00a0Sweet potato!! I have no idea why ANYONE doesnu2019t!
Junk food:u00a0Burger Kingu2026 itu2019s a shame but I absolutely love it!