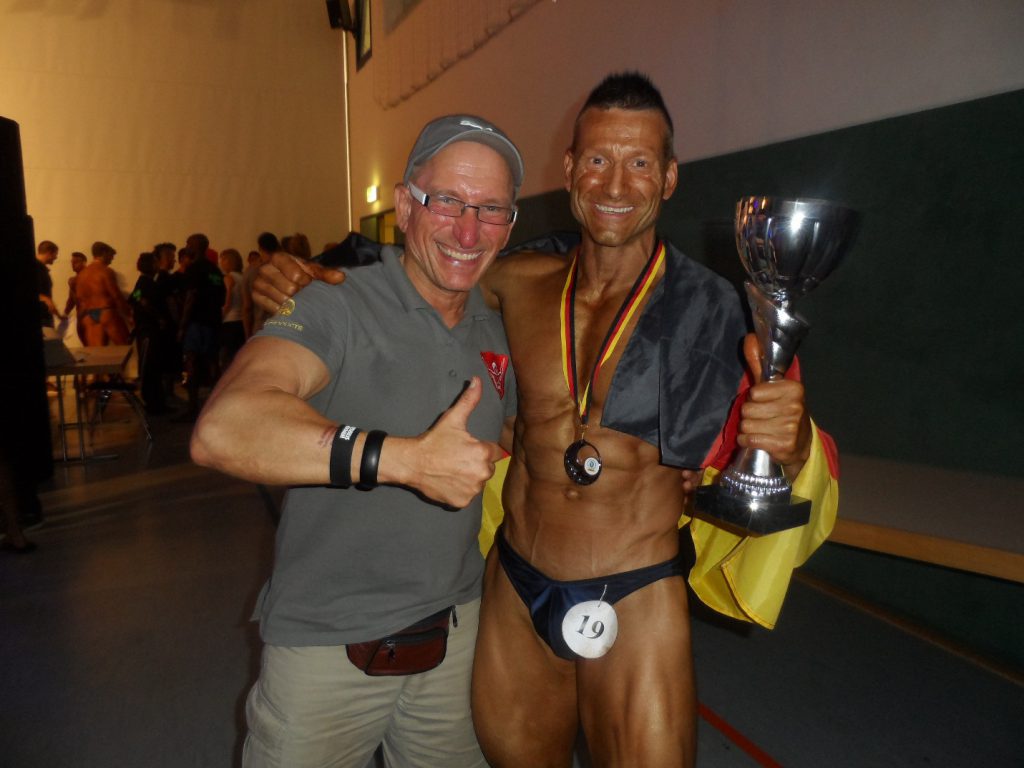 INTERVIEW - Ru00dcDIGER LANG
Name:u00a0Ru00fcdiger Lang
Place of living:u00a0Germany
Age:u00a052
Occupation:u00a0warehouse manager at Siemens
Category you compete in:u00a0Grand Masters (50-59yrs)
Accomplishments:
German Championship of the GNBF 2014 in Wiesloch, 25th October, Master 1 winner, overall winner Master.
World Championship of the UIBBN 2014 in Vincenza, 8th November, Master 1 -75 kg, 3rd place.
International German GNBF 2015 in Neu-Ulm, 2nd May, Master 1 Winner.
European Championship of the UIBBN 2015 in Werdau, on June 13th, master 1-75 kg, 1 place
World Championship of UIBBN in Barcelona, u200bu200bon 14.11.2015, Master2 – 75 kg, 4th place
International German Championship of the GNBF in Neu-Ulm, 28.5.2016, Master 2, 1 place – Master Master
European Championships of UIBBN in Paris on 4 June 2016, Master 2, 2 places
World Championship of the INBA in Budapest on 11 June 2016, Master 2, 2 places
World Championship of the UIBBN in Belgium – Dinant on 26.11.16 Master 2 – 75 kg,u00a01 place
International German Championship GNBF in Neu-Ulm on 27.5.2017, Master 2 (50 – 59 years), 1 place
INBA World Championship in Rimini on 4/4/2017, Master 2, Vice World Champion
Motto:u00a0Train Hard Feel Good
Congratulations on your success with the Elite Tour. How was the year for you?u00a0
Thank you very much, I am very happy that I can be in Las Vegas.This was a good year for me, I had two competitions that were very great and successful for me.since September 2016, I have done three competitions, including a World Championship title at the UIBBN, an INDM first place at the GNBF and the Vice World Championship in Rimini by the INBA.
My preparations are always the same. I always try hard to give my best and as good as I can get everything out of me no matter what competition it is, of course it is not always easy but I keep the goal strictly in fornt of my eyes. I am also very disciplined which is also very important as I find in this sport and you should not lose the fun thereby, I always go very concentrated in the sentences purely so that I can feel the muscle in the repetitions nicely, which nevertheless is absolutely great feeling.
Which competition was the best for you? Why?
I think, competitions are always equally positive excitement, the whole course, the anticipation, the tension, the whole competition is simply indescribably great. Pure goose bumps.
I have done so far only 11 competitions. The best for me was in Budapest with INBA as was the organization super, simple registration, very good stage, everything good for the athletes, always rock music in the background. It was in general very good and enthusiastic competition.
Why did you choose natural bodybuilding?
Natural Bodybuilding is still a very healthy sport. It gives me so much strength in my life. If you pay attention to the diet, it is simply healthier life. You feel comfortable and full of power. You will also be self-assertive, more balanced despite if you do nothing. I have been training now for 33 years and it makes me more and more fun to the experience and that is just my way of life. I am very proud to be natural. Everything worked out on its own.
How many years have you been competing and what was your first show like?
My first competition remains for me, of course, unforgettable it was soooo exciting and great. It was the 25.10.14. in Wiesloch at GNBF – DM I started in the class Master 1, the fan base were over 80 people that was really loud and I did not know how it was me, oh my god I had won. 14 athletes in the class, the hall raged buuuh. It went on to the Master overall winner where a colleague from our studio (actually my role model) and had won this fight … Hammer..It went till the late night, then to the comparison of the winners of all classes and I took the second place. It took me a long time to realize this, at the end the hard work had paid off.
What do you consider to be your biggest achievement in the sport and why?
The biggest achievement that I am and remain natural. The ambition of patience, endurance, discipline, etc. always bring to the day and natural struggle – this is my greatest achievement.
Because natural is easy natural and healthy is developed on its own and this does not build up muscles from today to tomorrow.
Is there anything you would like to achieve in the sport?
Yes, the youth also understands that you can also achieve natural which is synonymous without doping, to be well muscular and have a healthy look. People are doing sports because they feel better and more comfortable.
Natural Mr. Olympia is a dream of every natural bodybuilder. I hope I make it to the final.
I would like to be an example for many.
Favorite:
Sportsman:u00a0Michael Schumacher, Valentino Rossi, All Natural Bodybuilders
Sport besides bodybuilding:u00a0To relax, I like to ride my Harley Davidson Slim or bikeu00a0..